Jacksonville Veterinary Staff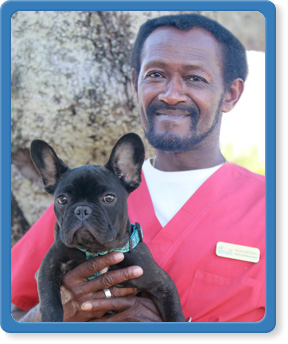 Kennel Assistant Raymond P. has been with Mandarin Animal Hospital since September of 2011, and has been working professionally with animals since 1996. He takes pride in the work he does, and stays focused on "keeping everyone healthy" during their stay at the Hospital.
Ray spends as much of his spare time as possible with his family as well as landscaping and fishing.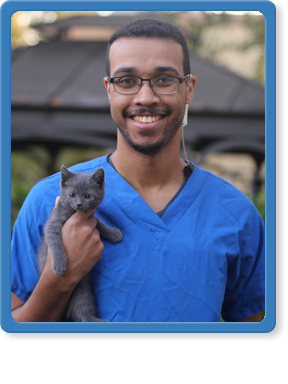 Veterinary Technician Maxwell S. is a full-time team member who joined Mandarin Animal Hospital in August of 2017. He was worked in the animal related field for over 2.5 years, and loves his profession. The aspect of his job that Maxwell enjoys most is being able to educate and relay important information to pet owners. Maxwell is also responsible for assisting in animal care, treatment, and medicinal administration, along with surgical assistance and animal education.
Maxwell is bilingual, being fluent in both Spanish and English. Prior to working with Mandarin Animal Hospital, Maxwell worked as a veterinary technician in Dunnellon from March 2016 to July 2017. He is currently enrolled in Jacksonville University and is working his way towards becoming a veterinarian.
"I'm slowly working towards becoming a veterinarian. I've always loved animal care and educating animals." Maxwell declares. "It has always felt like my calling."
At home, Maxwell enjoys passing the time by playing guitar, swimming, or playing video games. He owns a Tennessee Cur named Gigi, a Puggle named Bernie, and 3 DHS cats.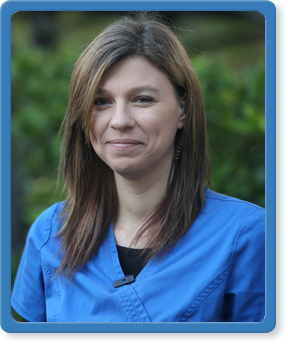 Client Care Coordinator April A. helps provide excellent customer service, orders Hills food, serves as a Petly plan wellness manager, and is the lead receptionist here at Mandarin Animal Hospital. She has been a full-time team member since June of 2016 and has over 7 years of experience in the animal related field.
Interacting with clients and their pets and being able to see sick pets get the treatment they need to get better is what April regards as the most enjoyable part of working for Mandarin. "The staff is willing to help you out if needed" April says. "There is always room to grow here."
At home, April likes to pass the time by gardening, hiking, doing anything outdoors, baking, and spending time with her family. She owns two cats, Jax and Jemma.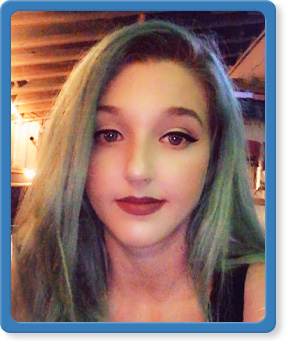 Crystal has been a professional pet groomer since 2017 when she started working at a small grooming/boarding facility in Macclenny Fl. Her compassion, patience, and attitude to detail made her the perfect fit as a groomer.
Crystal's favorite part of the job is meeting new fur friends and building a lasting bond built from trust and understanding.
She has two sons Loki and Salem that are 7 and 1. She also has 4 fur babies, a bearded dragon, and a ferret. In her spare time she enjoys hiking in the woods with her pack and family and training her water rescue dog Apollo, a white shepherd.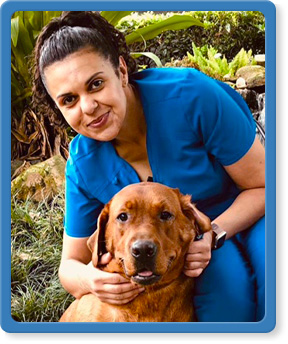 Sabrina joined our team almost 3 years ago and has become cross trained on several teams within the hospital. Sabrina says she spends her free time outside of work with her furry kids, Molly & Buster, and close friends and family. She says she enjoys all activities that allow her to enjoy the ocean, horses (anything animal related), exploring new places & restaurants. She says the best part of her job is being able to provide exceptional patient care with the most current methods (lots of belly rubs, too) and getting to know our clients. This combination allows her to provide ideas that are helpful to our clients, improve the health of their pets and are fun for everyone!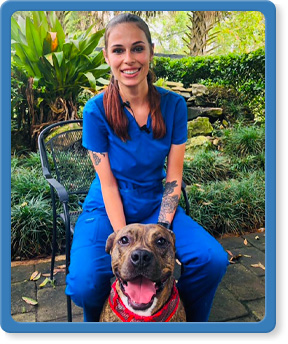 Cheyenne is our lead technician and has been a part of our technician team for almost 3 years! She is married with 2 wonderful children and has been in some aspect of the veterinary field since June of 2010 & she says she "has loved every minute of it". She says her favorite thing about her job is the one on one relationships she gets to create and maintain with all of our clients and their pets. The hard days are what make us all stronger, so when feeling helpless then help someone, is a motto she tries to follow and instill into her children. When Cheyenne is not working, she is usually out with the family hiking, camping, or really anything to get everyone all outdoors and away from hectic everyday life.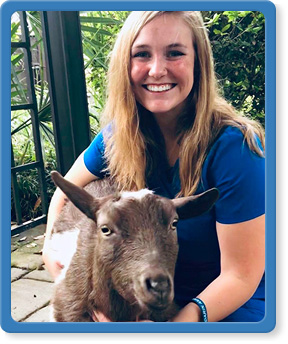 Karen has been apart of the team for almost a year and a half and has been a technician for about two years and she says she absolutely loves what she does!! She has three fur babies of her own; Angel Baby, Peg Leg Pete and Harley. You can catch Karen outside hiking, fishing or enjoying a cup of coffee on her days off! Karen says the best part about being a vet tech is getting to know every unique family and helping patients whether it be a routine check-up or a more complicated case.