Jacksonville Pet Grooming Services
Keep Your Pet Looking Good and Smelling Great
Our South Jacksonville pet grooming salon is ready to provide your pet with some healthy pampering!
We believe grooming is important to your pet's health and are here to offer your pet a day of pampering. Proper grooming is essential for keeping your pet comfortable and ensuring its skin and fur is healthy.
Our doctors will prepare the groomer with the best skin care shampoos and products tailored for your pets specific skin care needs, and our groomer will use the latest technology and equipment to ensure that your pet emerges from his or her appointment feeling and looking great.
We look forward to speaking with you and getting your pet scheduled today! We are more than happy to also coordinate your pets veterinary appointments on the same day so make sure to schedule your appointments soon as possible in order to get your preferred date and time.
Please know as a safety measure for all of our pets, we do require proof of vaccinations to utilize our grooming services.
Bath and Grooming Pricing
**Prices DO NOT include Sedation of $50.00 if necessary**
**Pending severity of hair matting, there may be a $10.00-$20.00 add on de-matting charge.**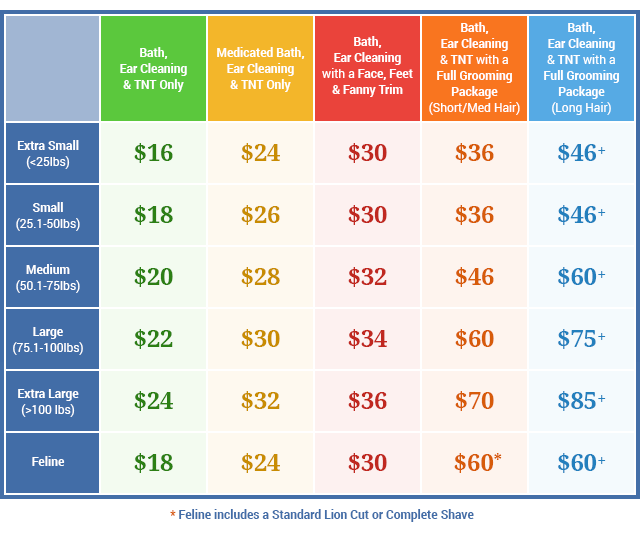 Limited Time Only 10% Off First Time Grooms