Jacksonville Veterinary Wellness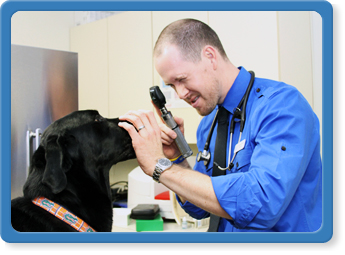 Based on our years of veterinary experience, Mandarin Animal Hospital knows that the thorough practice of preventative medicine is the most effective means to keep your pet healthy. It is also the most effective method of minimizing the lifetime cost of care for your beloved companion.
Routine Pet Wellness Exams
This is why we recommend routine pet wellness examinations—the veterinary equivalent of the yearly physical you receive from your doctor—as well as appropriate Jacksonville cat/dog vaccines, microchip lost pet ID, specialized pediatric and geriatric care, pet dental exams, parasite prevention, and nutritional and behavioral counseling. When judiciously applied, our veterinary wellness services will help ensure the wellbeing of your pet as well as increase the bond you share with your pet and the satisfaction of being a pet owner.
Pet Diagnostics and Surgery
Mandarin Animal Hospital also believes that your veterinarian must also offer state-of-the-art diagnostic, medical and surgical care should your pet become ill or suffer an injury. We have a full pet diagnostic laboratory by IDEXX, the leading producer of veterinary lab equipment, as well as a modern surgical suite, computerized radiographs and we offer ultrasound through a specialist that comes to our facility.
Veterinary Specialist Referrals
We also realize that there are times when we need to seek outside expertise in order to provide your pet with the best care possible. This would include advanced surgical procedures, neurology, oncology, ophthalmology, and dental care, to name a few. For this reason, Mandarin Animal Hospital has cultivated a network of Jacksonville veterinary specialists within our area to whom we refer our clients when necessary. To say the least, we can provide your pet with high-quality care within our facility, but when something extra is called for, we are there to ensure your pet receives the best specialist care possible.
Please browse through our services listed below and on following pages and then feel free to give us a call to set up an appointment or ask any questions you may have. We believe it is important to be available to you and to ensure we maintain open lines of communication with our clients.
Your Pet's Wellness Exam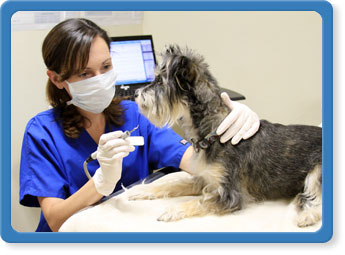 As medical professionals, Mandarin Animal Hospital understands the cornerstone of any preventative care program is regular wellness exams.
Just as any other member of your family sees a physician for routine physicals, your pet needs to see his or her veterinarian in order to check for underlying signs of ill-health. These routine exams also make for a great opportunity for you to ask any health related questions you may have or raise concerns about the health of your pet. Your veterinarian will also use this time to discuss age-related health issues with you as well as provide any new information on the care of your specific type and breed of pet.
In all, routine wellness examinations are an important step for discovering any health issues at an early and easily treatable stage as well as taking steps to prevent the onset of illnesses.
During your pet's wellness exam, your veterinarian will:
Examine your pet's lungs – There are a number of health issues that can be detected by listening to your pet's lungs. These include respiratory infections, obstructive diseases and other pulmonary issues.
Check your pet's heart – Your veterinarian can tell a lot about the health of your pet's heart by listening for murmurs and other irregular heart beat patterns through a stethoscope. Identifying an irregular beat or indications of obstruction can lead to early diagnose and treatment.
Take a look at the teeth and oral cavity – Proper oral health is important for maintaining the overall systemic health of your pet because these infections can enter the blood stream and infect other areas of the body. Dental disease is also one of the most common health issues in pets as well as one of the most preventable.
Look at your pet's eyes – Ocular conditions such as glaucoma are relatively common in older pets and, as with other vision-related issues, can be well treated when discovered early.
Examine the ears – Infections, ear mites, low-grade allergies and other related health issues are relatively common in companion animals. It is relatively easy for your veterinarian to take a look inside the ears to see if there are any indications of ear disease.
Examine the lymph nodes, abdomen and skin – Your veterinarian will look for any unusual bumps or swellings as well as skin discolorations, lesions, and hair loss, which can indicate the presence of dermatological conditions or even systemic illness such as metabolic diseases.
Palpate joints and muscles – Arthritis and other orthopedic issues are relatively common in companion animals, especially those older than about six years of age. However, early detection and treatment can help relieve pain and offer your pet many more active years.
Lab testing – While your veterinarian's physical examination findings are good at helping detect a number of health issues, laboratory testing allows us to evaluate the function of internal organs, blood, and other systems. These tests are critical for uncovering underlying disease processes that otherwise would remain unnoticed until they cause serious symptoms in your pet.
Preventative Pet Health Resources
If you'd like to schedule a pet wellness exam for your pet at our Jacksonville veterinary location, please call us at (904)731-5341 or email us here. For more general preventative pet health information, please see our Jacksonville pet medical articles section.