Jacksonville Community Involvement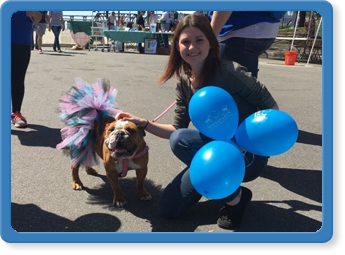 We truly love our community! Throughout our more than 50 years of service to companion animals and their owners, Mandarin Animal Hospital has strived to be a proud and integral part of the community we serve. Jacksonville and surrounding areas are our home and we firmly believe that our success depends on being good and supportive neighbors.
We are excited to support events such as the Community Hospice and Palliative Care's annual fund raiser as well as participating annually with JHS Mutt March. Every year, we also support our community through sponsorship of other local events, such as charity golf tournaments, Little League team's and local school Career Days.
Our doctors and staff are passionate in sharing their medical knowledge and welcome opportunities to share their compassion and love of animals and animal care. Please do not hesitate to request us to speak at local schools or to host small group tours of our facility for local organizations such as the Cub Scouts or Brownies.
We work closely with Community Hospice and Palliative Care to help find homes for pets whose owners can no longer care for them. We assist by helping foster, vaccinating, spay/neuter, and treat for conditions such as heartworms or any other medical treatment required for these pets to prep them for their new forever homes.
We have also partnered with The Wildlife Rescue Coalition of NE Florida to assist in the treatment and rehabilitation of abandoned and injured local wildlife such as raccoons, turtles, squirrels and opossums. For more information on this program please see their website at www.wildlifecoalition.com.
In all, we are overwhelmingly grateful to be able to serve the Jacksonville community—both in volunteer hours and financial support—and look forward to many more years of giving back to the place, the people and the animals that means so very much to us.
Looking to Adopt?
Mandarin Animal Hospital works with the following nonprofit rescue organizations, which help animals in need find their forever homes: